2 Digit On Off Repeat Cycle Timer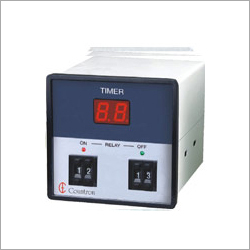 2 Digit On Off Repeat Cycle Timer
Product Description
We are counted among some of the most noted manufacturers and traders of a huge gamut of 2 Digit On Off Repeat Cycle Timer. Also, these timers are designed and manufactured under the strict supervision our adept manpower who make use of high grade basic material sourced form certified vendors of the industry. Our offered timers are best suited for resolution for 0.01, 0.1, 1 sec. OR 0.1, 1 Min. OR 0.1 Hr. Also, our range of 2 Digit On Off Repeat Cycle Timer is appreciated for stupendous quality, engineered with precision, provide accurate and error free timing, etc.
Model code:1072
Product Name:2 Digit On Off Repeat Cycle Timer
Category:digital_meters
Sub Category:cyclic_timers
Features

Quartz Crystal Base for 0.01% Accuracy/Repeat Accuracy.
Ranges Covering 0.01 sec. to 9999 min.
Delayed On/ Delayed Off Process or Cascading Operation.
Single/ Cyclic/ Sequence/ Cyclic-cum-Sequence Operation.
Mains/Remote/Push Button Initiation.
Blind/Digital Timers.
Din Standard 96 x 48, 96 x 96 & 96 x 192 mm Panel/Wall Mounting Case.
110 V AC, 230 V AC, 12 V DC or 24 V DC Operation.
Potential Free Output in the form of 2 Change Over Relay Contact @5A/230V AC or Solid State Relay with AC Output.
'Instant On' Relay also available as option.
Setting by Thumb wheel Switches.
Independent of Mains Frequency/Voltage Variations.
Specification

Display: 2 Digit (0.5 inch Red 7 Seg)

Range: Internally adjustable with Jumpers for 99sec or 99min.
Other Ranges available on Request.
Settings: 2 Push Wheels for ON-TIME and 2 for OFF-TIME
Output: 2 Sets of NO-P-NC. 5 Amps Relay Contact.
Supply: 220V AC +/- 15% 50Hz
Size: 96mm x 96 mm
Mounting : Panel Type